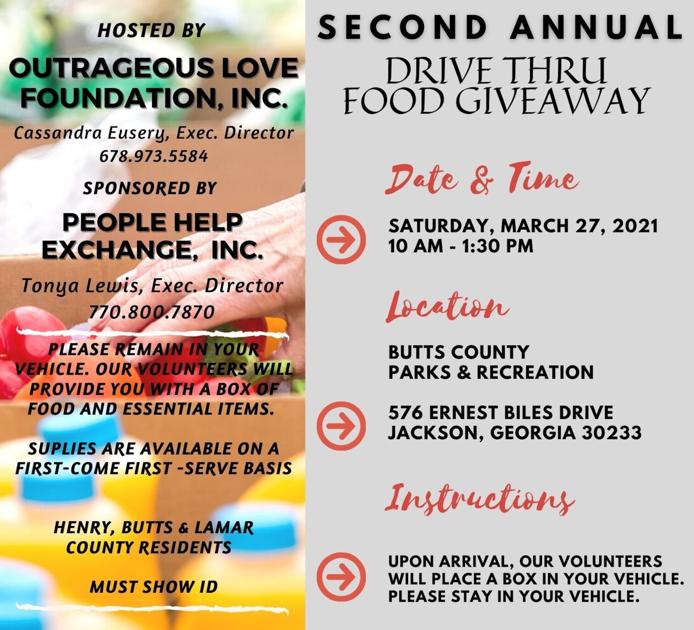 Community Drive-Through Food Giveaway is March 27 at Parks and Recreation | News
The Outrageous Love Foundation Inc. and People Help Exchange Inc. will hold their Second Annual
The Outrageous Love Foundation Inc. and People Help Exchange Inc. will hold their Second Annual Community Drive-Through Food Giveaway on Saturday, March 17, from 10 a.m. to 1:30 p.m., at the Butts County Parks and Recreation, 576 Earnest Biles Drive in Jackson.
The food giveaway is open to Butts, Henry and Lamar County residents. Those seeking food must provide identification and are asked to remain in their vehicles. Volunteers will provide them with a box of food and essential items. Supplies are available on a first-come first-serve basis.
Outrageous Love is a non-profit organization formed by retired Army veteran Cassandra Eusery to provide support and assistance for military veterans. It is housed at the Life Enrichment Team office at 151 N. Mimosa Lane in Jackson. Call 678-973-75584 for more information.
People Help Exchange, Inc. is a food pantry service in McDonough, serving surrounding areas with groceries, hygiene products, and house supplies. Tonya Lewis is the Executive Director and can be contacted at 770-800-7870.