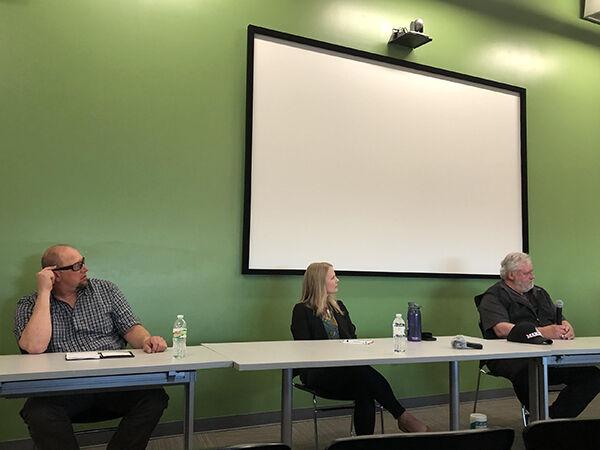 Candidates address housing, economy, outdoor recreation at Lead City Commission forum | Local News
LEAD — Affordable housing development, the growing local economy, outdoor recreation, and fiscal responsibility were
LEAD — Affordable housing development, the growing local economy, outdoor recreation, and fiscal responsibility were the themes of the night as three city commission candidates discussed how they want to help shape the future of Lead.
Held at the Sanford Lab Homestake Visitor's Center, Lead resident Gordon Phillips moderated the candidate forum that had Roger Thomas, Kayla Klein and Dustin Heupel taking written questions from a full house of Lead residents. The three candidates are running for two seats that will be vacated by commissioners Joel Edgar and Don Mack.
Each candidate repeatedly expressed their desire to be part of the changes coming to Lead with development of the Sanford Lab, rising sales taxes, and increased interest in the area as a recreation destination. Each one outlined very different levels of experience to help usher the city into its new growth.
Roger Thomas has lived in Lead for 36 years, raised a family here and worked for the city for 24 years. Thomas, who attends every commission meeting virtually due to the pandemic, pointed to two city department heads who are poised to retire this year. He said his wealth of knowledge and experience with operating city departments would be quite valuable to help oversee responsible growth in the city.
"The reason I'm running is because the city gave me a lot when I was working for them, and I want the opportunity to give back," Thomas said. "There are going to be a lot of changes coming to Lead in the next two years. There will be changes at city hall and in some of the departments that run the city. I would like to be a voice that from my experience, helps guide the city to the future. Lead is becoming a destination town along with recreation and the lab. There are a lot of issues facing Lead with the housing, infrastructure and the roads, and I would like to be part of that change."
Klein, agreed that major changes are coming to Lead, and said she has the experience, passion and love for this community to make a positive difference in that growth. Klein, who helped open and operate First Step Childcare Center in Deadwood, said she raised $800,000 for that facility, and helped to pay off $500,000 in debt there. She was also the president of the Handley Center board when she and her husband, Matt Klein, worked to bring the Boys & Girls Club of Lead-Deadwood into the community, and put the struggling Handley Center down a path of significant growth and development.  
"It's been a blast watching the community grow and participate in events to help each other out," Klein said as she outlined her community involvement to promote and celebrate Lead. "Lead is experiencing a windfall and there is a lot of opportunity for change and progress in the community. There are so many amazing things that can be done here."
Heupel, who was born and raised in Lead, left for several years but then returned to raise his family in the community he loves, said he is running to give the citizens a voice on the commission. Heupel, who is a general contractor and president of the Northern Hills Recreation Association, and who was also part of the Handley Center board when the Boys and Girls Club came in, said he wants to use all of that experience for Lead. He attends almost every city commission meeting, and said he wants to make the commission accountable to the citizens again.
"No disrespect to any of our current or past commissioners, but I really felt that a lot of times the community voice is not being heard or followed through with," Heupel said. "I think we've had a lack of accountability on following through with what the people have asked for in town."
All candidates agreed that the city needs to work with area developers to provide incentives and make more affordable housing available for the burgeoning workforce and influx of residents expected to come in the next few years. But in the wake of record-high costs for developing housing and infrastructure, Heupel and Thomas suggested that the city should consider revising its current ordinances.
"A lot of our ordinances were put into place many years ago," Heupel said. "Modular homes are not allowed. But those homes were different than a modular home is today. If we look at our ordinances and maybe tweak or change some of those, that might allow us to get more affordable housing."
When addressing the property tax mill levy and rising assessments, all candidates pointed out that the city has been steadily lowering the mill levy for several years. Heupel suggested that the city should look at adding more houses to the tax rolls, to increase tax receipts without raising taxes.
"I would like to see it stay where it is and continue to look to put more houses on our tax roll, whether it be annexing out to the south or other areas that are not paying (city) property tax now," he said.
Sales taxes have been at record high levels these last few years, and all candidates agreed that the city is being fiscally responsible in its endeavor to save those funds for a "rainy day." However, Klein said the city should also use that money to make "outward facing" improvements that make Lead appealing to families who want to move here.
"We need to use this time in history to bring Lead back to its full greatness," she said. "It's already great, we just need to keep on rolling. The splash pad in the park was a home run. That was a great outward facing change. I'd love to see something more like that to happen as well. I want to encourage families who want to come and relocate here."
Klein was also the only candidate who addressed the need for childcare, in order to facilitate more economic development.
"I was just on an economic development call today and Brookings had a big opportunity to bring a large corporation into the community. They lost it because the company found there was not enough sustainable childcare," she said. "I raised $80,000 a year to run a quality childcare center. Those kiddos need to be taken care of with all the employees coming in. Because we have a quality early learning childcare center here and a preschool and after school program, we show that we take care of the children in this community. For businesses that is a big deal. If you don't have reliable childcare, you don't have reliable employees. We know the population is building, so we need to build a space for those kiddos."
While other candidates agreed about the importance of quality childcare, Heupel said infrastructure, housing and recreation development are paramount for attracting more residents. "We have to be able to retain and appeal to these people and these corporations coming in," he said. "I know a lot of lab people who have come in and we didn't have the housing and the appealing trails, we didn't have the stuff we needed as a city to get those people to commit to living in Lead. So, they live in Whitewood or Spearfish. We need to continue to make our city appealing to live here permanently, and not just come, work and go somewhere else to live."
Recreation was also a hot topic among the candidates, who have all worked to promote Lead's outdoors in different capacities. Heupel said while the lab will be the economic driver for the city in the short term, Lead's access to outdoor recreation is the "jewel" of its economy, as interest has been growing exponentially. Heupel, who has been actively working on responsible ATV/UTV trail development through the Northern Hills Recreation Association Trails Development Committee said, "I see only good things to come with growing recreation," he said.
Thomas agreed, saying "Lead is going to become a recreation destination with ATV/UTV usage. The numbers were up over 300 more licenses last year than previously. They're coming. We need to get a trail system devised. We have a good downtown. We have a good grocery store. We have good economics in this town and those area all going to be visited by the tourists and people who come. That is going to drive Lead into the future."
The election for Lead City Commission will be held on April 18. Polls will be open from 7 a.m. to 7 p.m. at the Sanford Lab Homestake Visitor's Center.
To read all of today's stories, Click here or call 642-2761 to subscribe to our e-edition or home delivery.