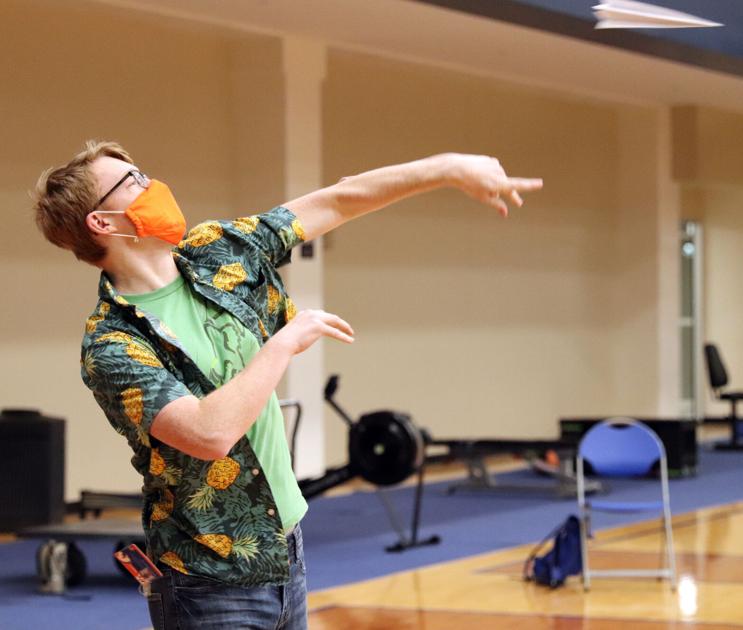 Campus Recreation kicks off Intramural Sports events with Paper Airplane Competition | News
Campus Recreation kicked off this semester's Intramural Sports events with the Paper Airplane Competition in
Campus Recreation kicked off this semester's Intramural Sports events with the Paper Airplane Competition in the Maverick Activities Center on Wednesday.
The competition was designed for students to have fun while also embracing the competitiveness of Intramural Sports, said Travis Lankford, Campus Recreation assistant director for sport programs.
This marks the first year for the Paper Airplane Competition, Lankford said. While Campus Recreation was mostly doing virtual events because of the pandemic, feedback from students led him to think more creatively about offering in-person competitions this year.
Following campus safety protocols, students who participated in the competition had to wear face coverings and keep their distance from one another, Lankford said.
Students were provided standard letter paper and were given 10 to 15 minutes to fold it.
The winning paper airplane was the one that could fly the farthest. However, Lankford said the design plays a significant factor in how far a paper airplane can fly.
"You've gotta find the right release point, the right angle," Lankford said. "All the kinds of things to get a paper airplane to fly as far as it can."
Biomedical engineering freshman Jagger Torres, who served as one of the helpers and judges at the competition, said that each contestant would play two rounds, and the distance is recorded once the paper airplanes touch the ground.
Finance junior Kaleb Bekele finished in first place. He came across the competition and wanted to join because it reminded him of his high school days.
The top three winners were all awarded Intramural Sports T-shirts.
The Paper Airplane Competition is the first in-person Intramural Sports event this semester. It will be followed by 14 to 15 more.
@DangHLe