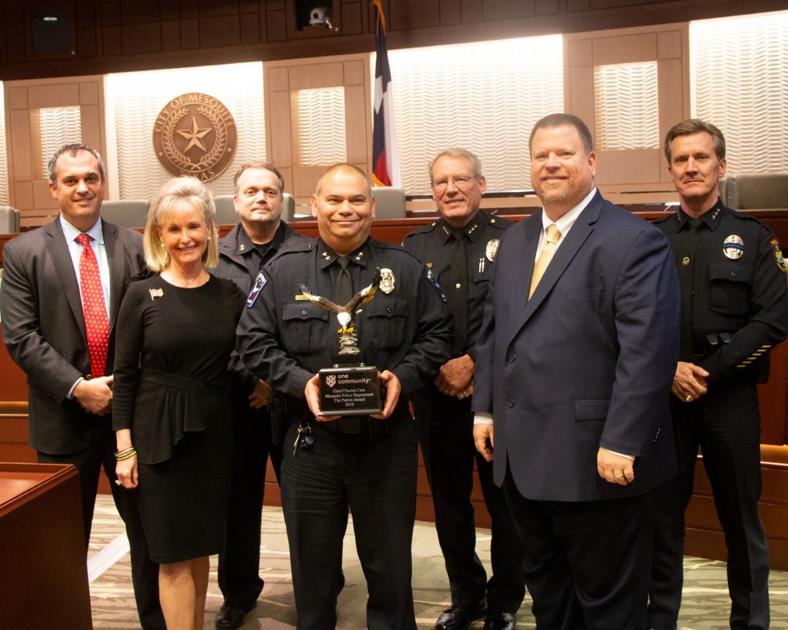 Mesquite police chief announces departure | News
Charles Cato has announced that Friday was his last day as Mesquite's police chief. The
Charles Cato has announced that Friday was his last day as Mesquite's police chief.
The city will begin a national search for a replacement and Assistant Police Chief David Faaborg will serve as interim police chief, the city stated in a release.
Cato, sworn in as Mesquite's 11th police chief on March 7, 2016, said, "I have served the Mesquite Police Department and the Mesquite community we protect with every fiber of my being for the past five years. It is time for me to move forward to the next chapter of my professional and personal life. I want to thank all the men and women of the department for their commitment, the City Council for their support and the city manager for providing me the incredible privilege to serve as the police chief."
In 2019, Cato was presented the Patriot Award by One Community for displaying ongoing engagement in building bridges of trust between law enforcement and the neighborhoods they serve. He directed many new Mesquite Police Department (MPD) initiatives:
Facilitated new community engagement programs, like "Drive Like Your Family Lives Here" to address neighborhood speeding, "SAFE" program to suppress criminal activity in apartment complexes, "Coffee with a Cop" to connect with citizens, "20-4-7" to encourage active neighborhoods, "9PM Routine" tips for homeowners to use each evening to secure their property
Started new police social media presence on Facebook, Nextdoor, Twitter and Instagram to improve community communication
Developed the 13 Minute Patrol internal operation for increased public visibility of officers in neighborhoods 
Instituted a peer-counseling/emotional wellness program for officers
Created the city's first crime analysis unit based on data-driven accountability for crimes and traffic safety
Launched a Public Safety Professional program that improved operational efficiencies by using non-sworn uniformed staff to respond to non-emergency calls
Re-established the K-9 Unit after it had been dormant for 20 years
Increased the overall diversity of the staff to 34%, including a 50% jump in Hispanic officers as well as doubling the number of female and African-American officers
Enhanced youth outreach efforts with the Crime Stopper's Club, a summer camp for middle school students led by their School Resource Officers, the Police Explorer Program and the 7-Eleven "Operation Big Chill" campaign to honor kids for doing good deeds
Multiplied by 300% the number families served through Santa Cop Program with the help of the Mesquite Citizens Police Academy Alumni Association and community partners
Established a new task force for officers to be involved with the U.S. Department of Justice Bureau of Alcohol, Tobacco, Firearms and Explosives as well as the Texas Department of Public Safety Aviation Unit
From 2016-2020, Mesquite saw nearly a 13% decline in overall crime based on the Federal Bureau of Investigation's (FBI) Uniform Crime Reporting Program, the city stated.
In 2021, Mesquite and other communities moved to the FBI's new National Incident-Based Reporting System (NIBRS). The February 2021 NIBRS statistics showed drops in Mesquite crime rates for a variety of offenses compared to 2020, including breaking and entering by 23%, shoplifting by 63%, and thefts from motor vehicles by 18%. Additionally, MPD's "Take Lock Hide" public education program has helped reduced thefts from vehicles left unlocked from 48% in 2020 down to the current rate of 36%.
Cato was also active in the Mesquite community. He served as a big brother at a local elementary school through the Big Brothers Big Sisters of Greater Dallas and was a regular participant in the annual Polar Plunge event to raise funds for Special Olympics of Texas. He was a frequent presenter at the community's National Day of Prayer event and volunteered to assist homeowners with landscaping projects on Addressing Mesquite Day. Additionally, Cato supported ice cream socials and other Adults 50+ programs at the city's senior centers. He is a member of the Mesquite Rotary Club.
Mesquite City Manager Cliff Keheley said, "Mesquite is a better community and safer city today because of Charlie Cato. Each day he displayed genuine interest in the people of Mesquite and the safety and well-being of the officers he led. One's actions often define one's character – and Charlie's fair and ethical treatment of others and his unwavering professionalism was the embodiment of his extraordinary character as a person and police chief."
Follow Chris Roark on Twitter!
@Reporter_Chris