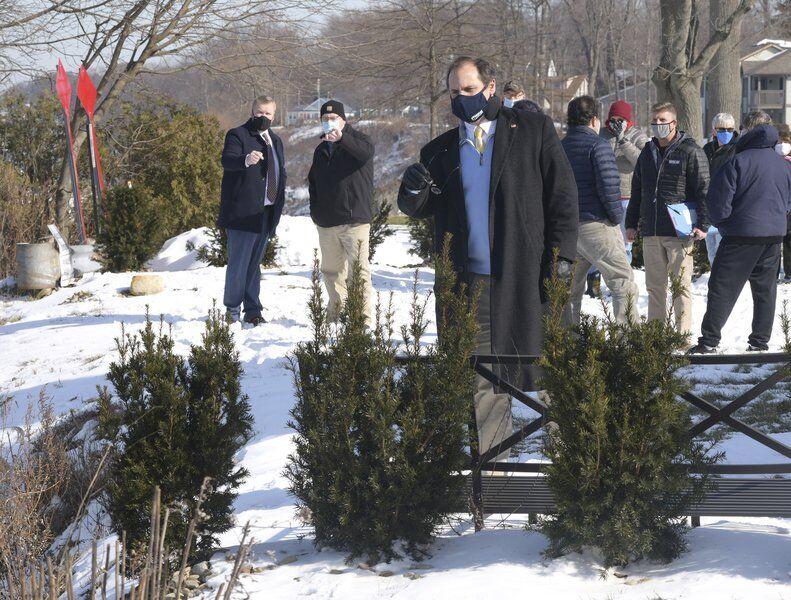 Commissioners, community view area up for vacation | Local News
SAYBROOK TOWNSHIP — A group of people gathered on the lakeshore on Thursday to view
SAYBROOK TOWNSHIP — A group of people gathered on the lakeshore on Thursday to view a section of land up for vacation in the coming weeks.
The Ashtabula County Commissioners were among about a dozen people at the event, one of the first steps in the process of vacating the right of way.
A petition has been filed to vacate a section of right of way between Highland and Morningside avenues. Lakeview Drive, which currently runs between Homewood and Highland avenues, used to extend one block further east, to Morningside Avenue, said Tom Partridge, Chief Deputy Engineer with the County Engineer's Department.
The section of road was abandoned in the early 1990s, when it was falling into the lake, Partridge said.
Homeowners filed for the vacation, he said.
The viewing on Thursday was a chance for the commissioners to see what they would be voting on.
The land south of the proposed area belongs to homeowners, and the land north of the area belongs to the Lakelands Community Association, according to the Ashtabula County Parcel Map.
Kathryn Whittington, president of the county commissioners, said that Thursday's event was the first step in the process, and that the public would have a chance to be heard at the public hearing next week. The meeting is scheduled for 1:30 p.m. on Tuesday, Feb. 9, via GoToMeeting, which the county uses to hold remote meetings.
A link to the meeting can be found on the commissioners page on the county's website, co.ashtabula.oh.us. Anyone interested in participating at the hearing can do so via computer or phone.
Partridge said past meetings have varied from routine to confrontational.
At some point after the public hearing, the commissioners will vote on the vacation.
The commissioners usually handle one or two road vacations per year, he said.
Last year, the commissioners approved the vacation of a dead-end section of Plymouth Brick Road East in Plymouth Township.